There will be more pictures coming so don't forget to come back!

If you have pictures u want in to be added in my gallery I will add it and of course I will give you a credit for it.

If you want to use my pictures you are welcome but you have to let me know though that you are going to use my MJ pix. Email me with your hp url address. And don't forget to give me a credit and to link of my page.

Fans Story is ready to go all I need is your stories. Any kind of stories, dreams, fantasies, or a made up story! Send it to me and I'll add it as soon as possible.

If you want me to add your Michael Jackson page in my links page email me to mjacksonfan@hehe.com and I will add you. Oh yeah don't forget to tell me the name of your page and tell me the description of your page. It don't have to be long.

If you have any suggestions or questions please email me.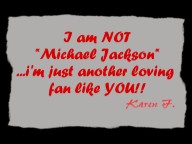 AnyQuestions?
<font="4"Keep Michaeling!!

Created last June 23, 1998. Maintained by: Karen Fucanan